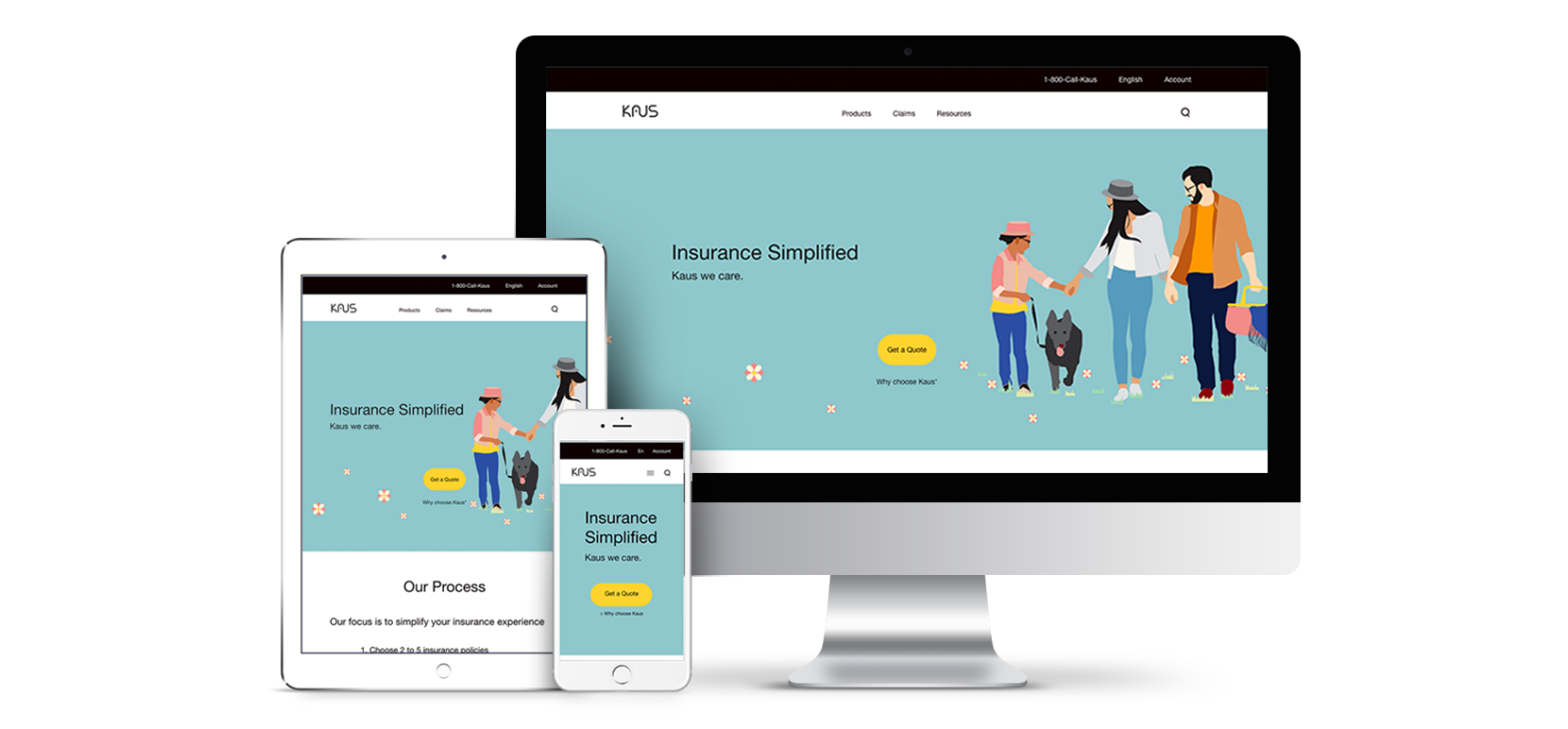 This case study is conceptual project. Kaus is a large insurance company that primarily sells customizable personal insurance policy bundles. 

This allows them to keep their insurance process efficient and rates lower than competitors.
They have only sold B2B so far and are now transitioning to sell directly to consumers. They now want to sell their policies online and want to attract the younger market.
Objective: 
Design a responsive website with new branding
Role:
UX Researcher, UX/UI Designer, Interaction Designer
Tools:
Adobe XD, Illustrator, Photoshop

​​​​​​​ The goal of this phase for me, was to

learn about the insurance industry eco-system and to 

understand the user on a deeper level to gauge the emotional, social, and irrational drivers that may affect their behavior towards insurance.

 
Process: (i)
 Plan Research
(ii) 
Conduct Market Research
(iii)
Synthesize Research Findings
To effectively conduct research I began by outlining a research plan. 
1. Determine motivations, goals, needs, goals, and pain points for buying insurance online
2. Define characteristics of people who buy insurance online
3. Define the general process of buying insurance
Secondary: Market research, Competitive analysis, Provisional personas
To best understand the challenges in the insurance industry, I began the project by researching the mechanics of the insurance industry. I identified key industry leaders to study and current market threats and opportunities.
Competitor Analysis

​​​​​​​​​​​​​​
Studying competitors helps us understand how they work to achieve similar goals and objectives. For direct competitors, I chose well established industry leaders practicing innovative approaches to sell a broad range of insurance products. Indirect competitors focused more on selling specialized and targeted insurance policies.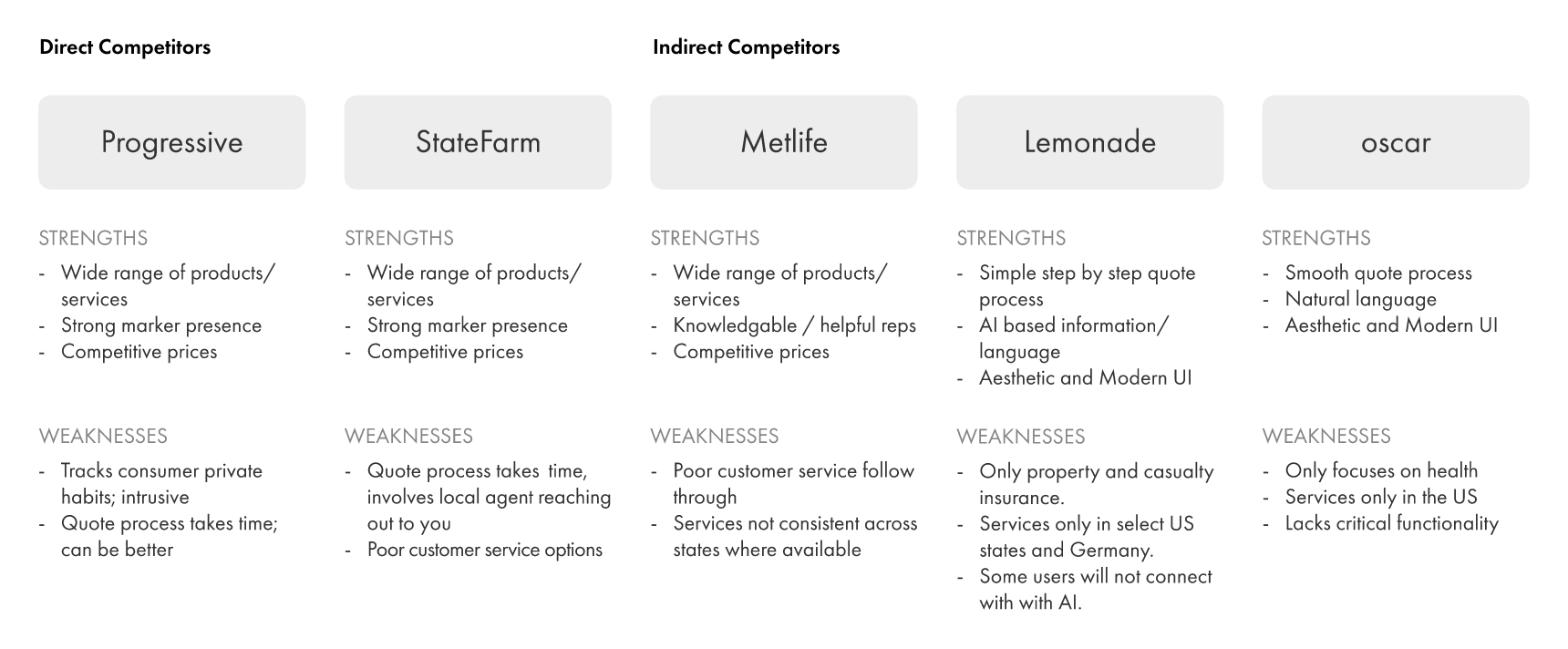 Once I had collected enough data from market research, I leveraged that research to craft personas of users. This will help guide my recruitment of users for the interviews to design solutions.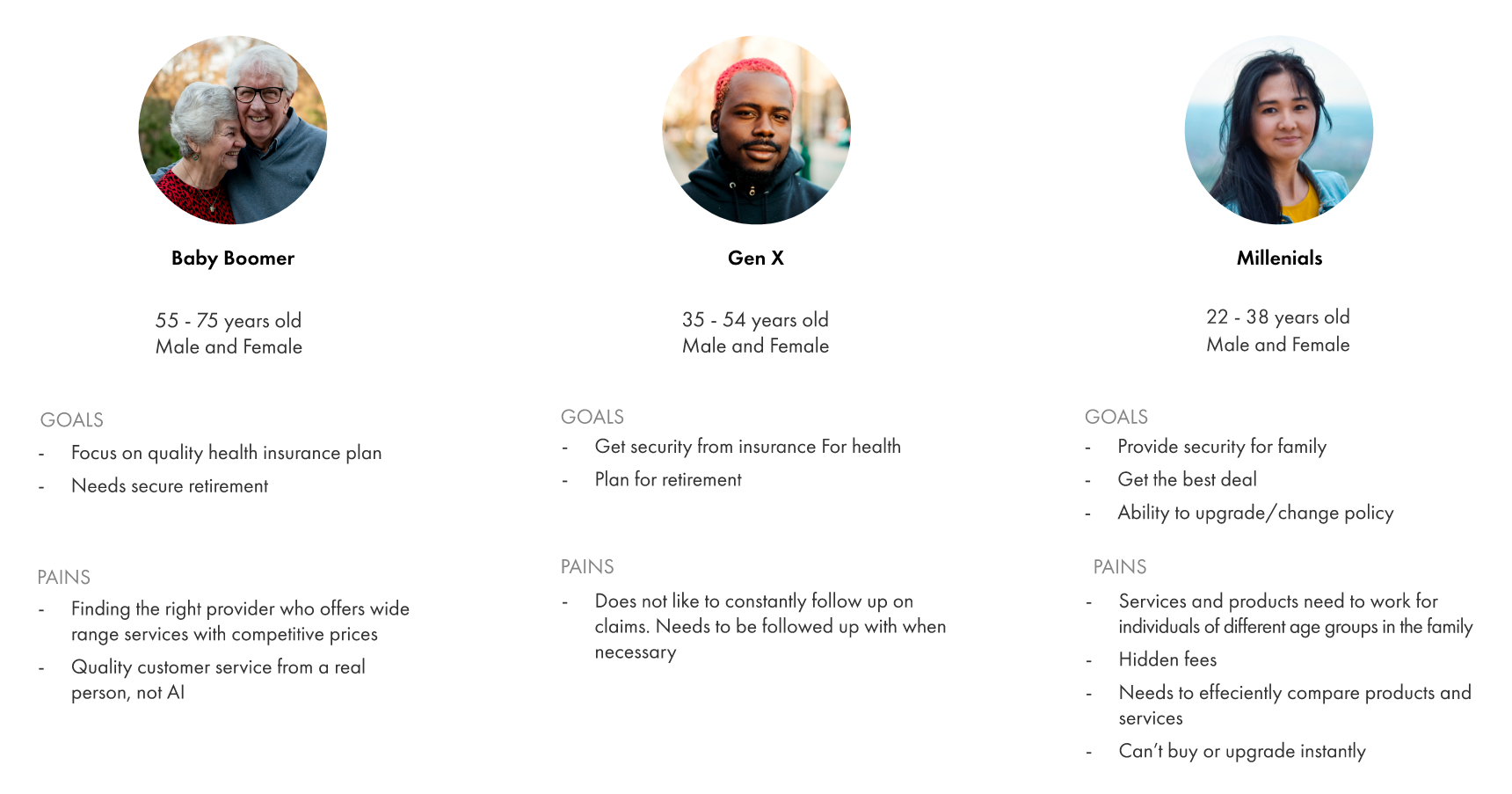 To gain users' perspectives, I conducted remote, 1-on-1 interviews with four potential users, who were familiar with purchasing insurance, to learn about their insurance buying experiences and online shopping habits. 
Number of Participants: 4 
Ethnicity: Asian decent relocated to North America, 1st or 2nd Generation
Employment: 3 Employed, 1 Self-Employed Business Owner
Relationship Status: 2 married, 2 single
Synthesizing User Research
After successfully gathering qualitative data, I needed a way to organize and analyze my research findings to see patterns emerging.
I created an empathy map to organize the research based on observations. I then identified themes and was able to identify insights and needs of the users.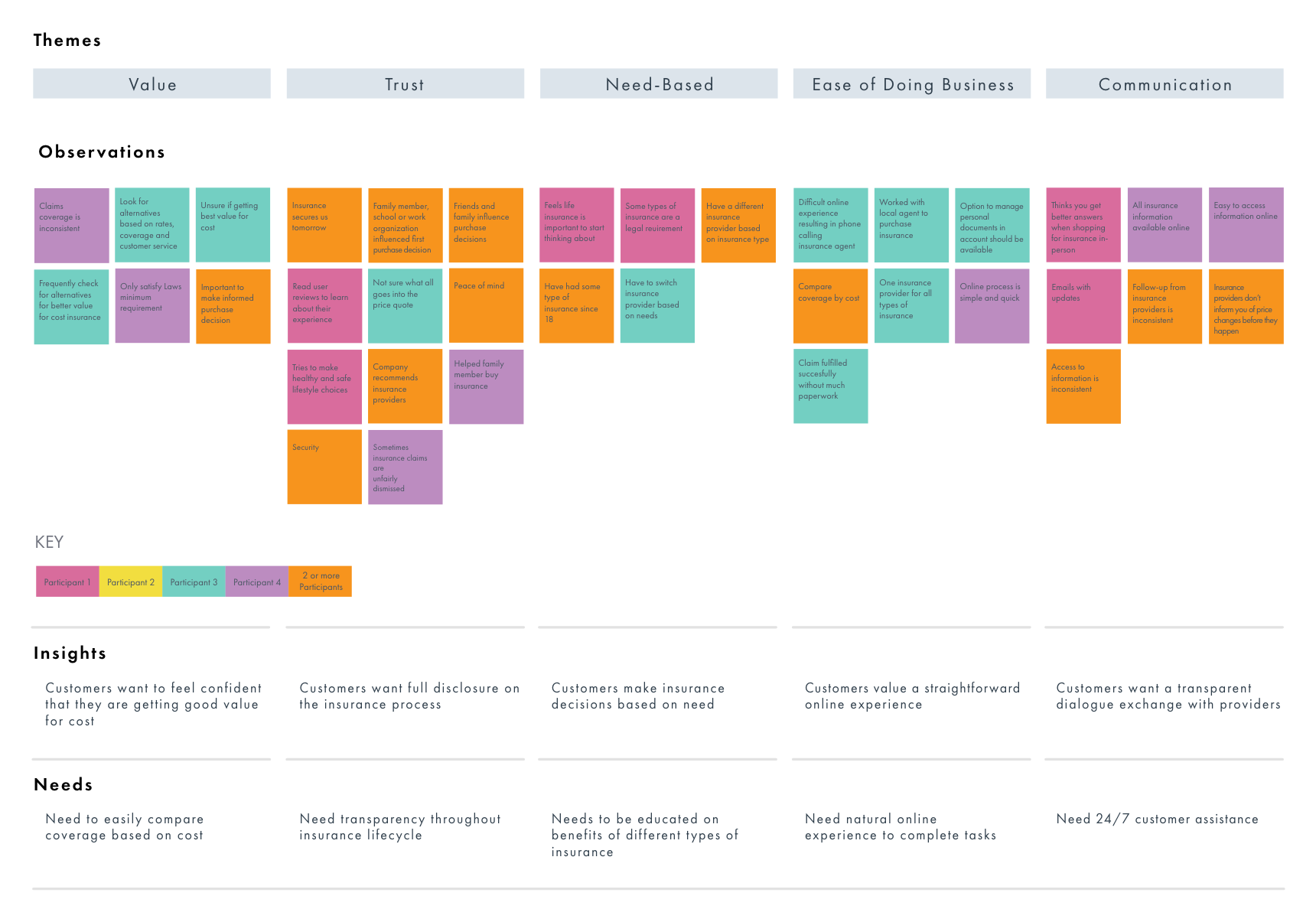 Based on our research findings we created a fictional but realistic representation of our key target audience.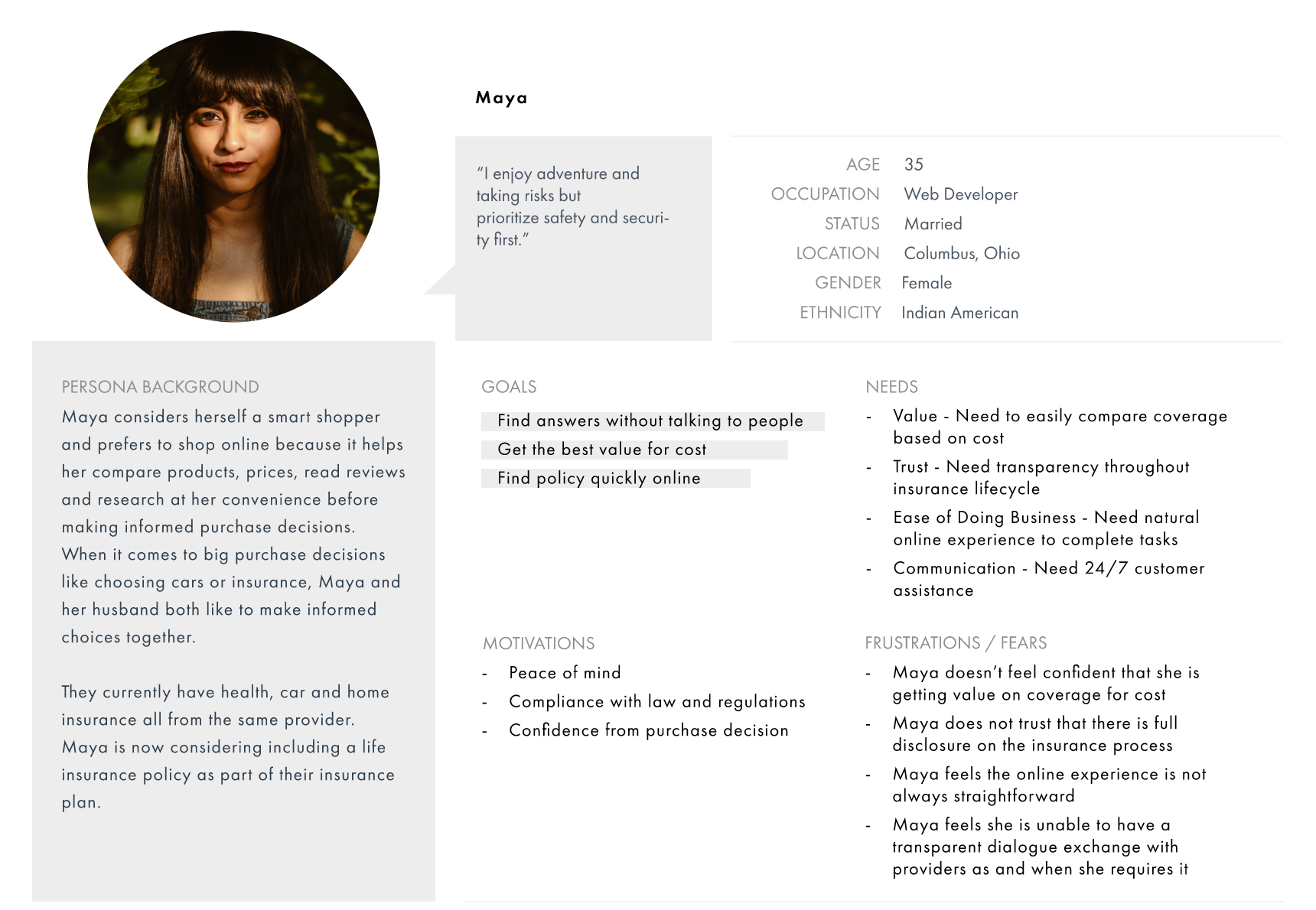 During the Define phase, I worked on making sense of the data collected during research. Insights from the market research helped define the goals of the product.
Process:

 (i) 
Understand Users Priorities
 (ii) 
Define the Product Goals
To help design successful information architecture for Kaus, I also ran an open card sorting exercise to gain insights on how users naturally organize content. 

​​​​​​​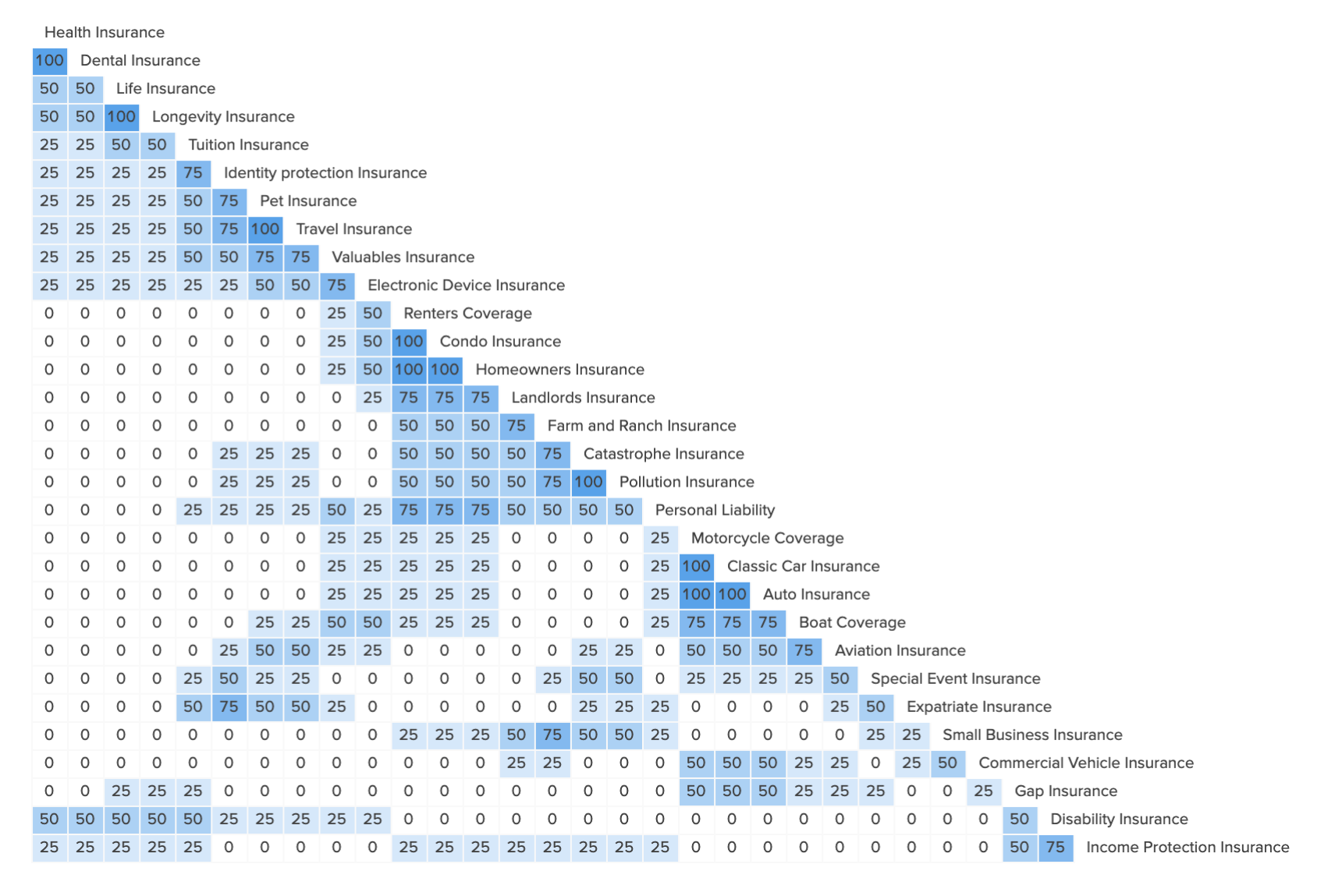 With business goals from the design brief and user goals from the empathy research and taking into account technical considerations I identified necessary overall goals and common goals of the project.
​​​​​​​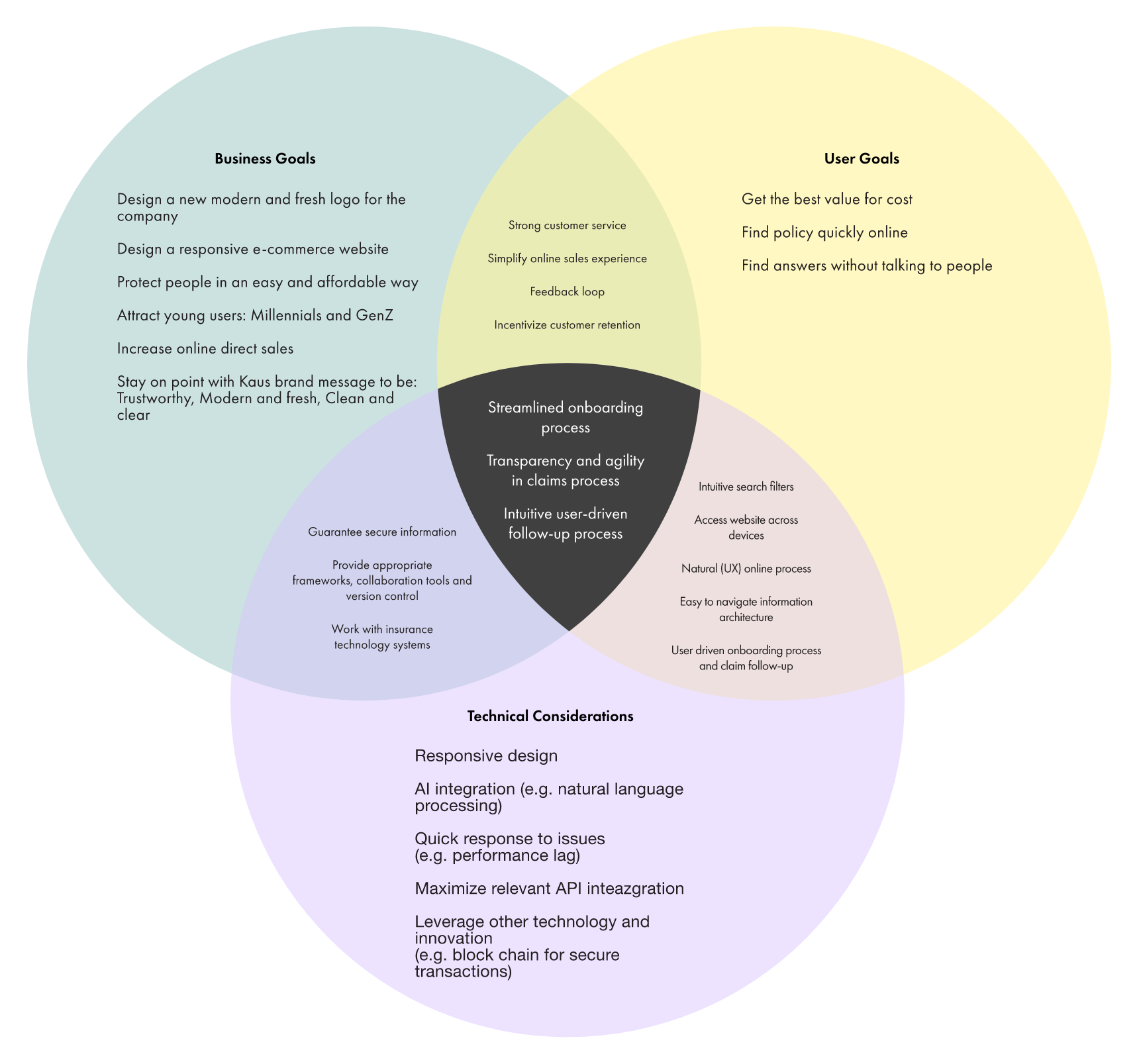 In this phase of the project, I began ideating on navigation based on the features and pages I wanted the website to include. 
Process: (i) 
Prioritize Product Features
(ii) 
Build Information Architecture
(iii) 
Understand Interactions
(iv) 
Wireframes
Prioritize Product Features
Once I had an understanding of the market, and defined the goals of the product based on the problems it needed to solve for the users, I began thinking about the key features the product would need to include to achieve those goals.
I created a roadmap of features that would be ideal for the website to have and ranked them based on need and budget allowance.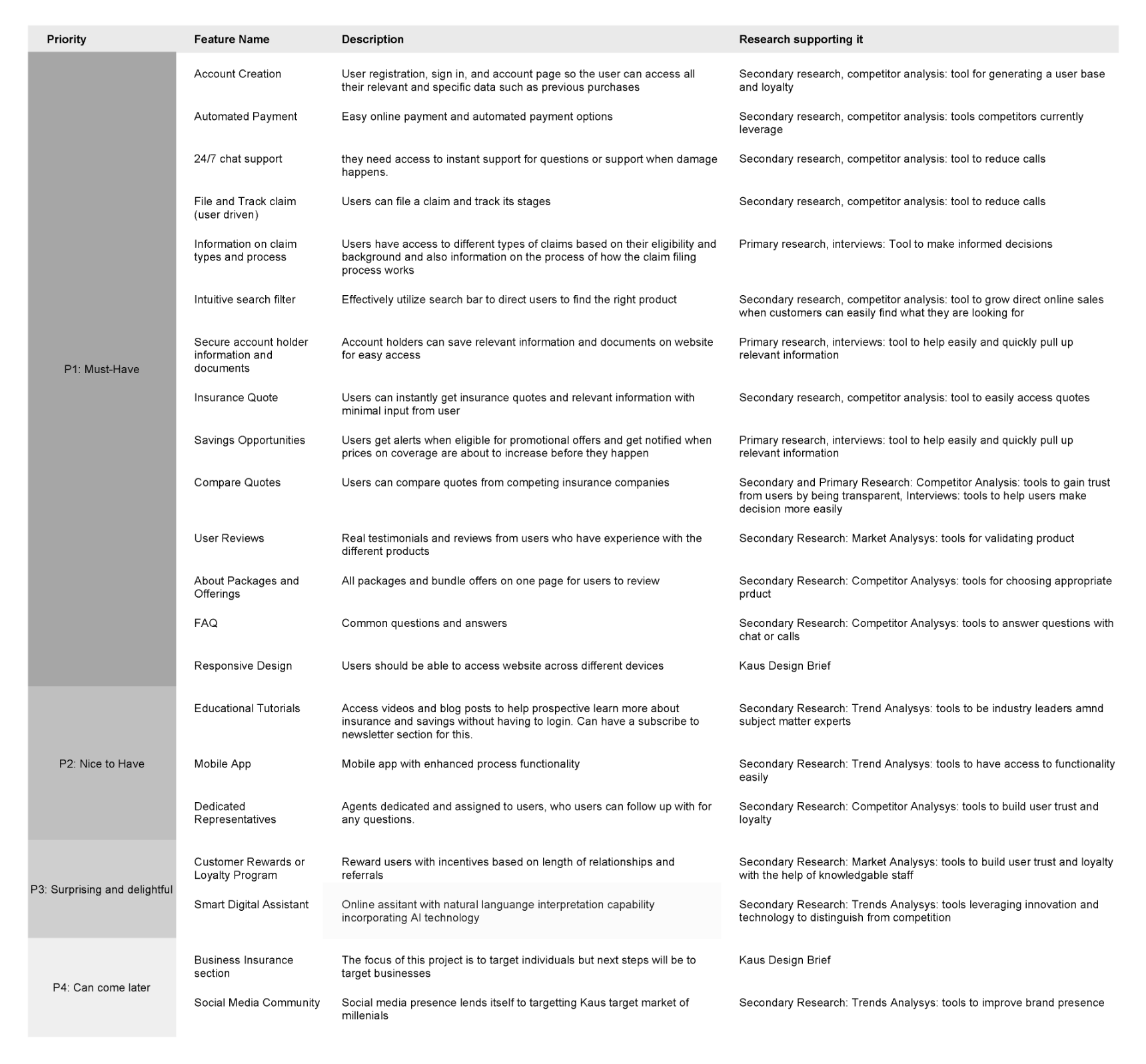 When I had a starting point of features that would be included, it was time to start thinking about how these features would be organized on the website.
I set the foundational blocks to the website by creating a sitemap to include the proposed features and pages.

The next step involved actually figuring out how a user would navigate and interact with these different features and pages.
I created scenarios and tasks for the user persona to help think about how she might interact with the website.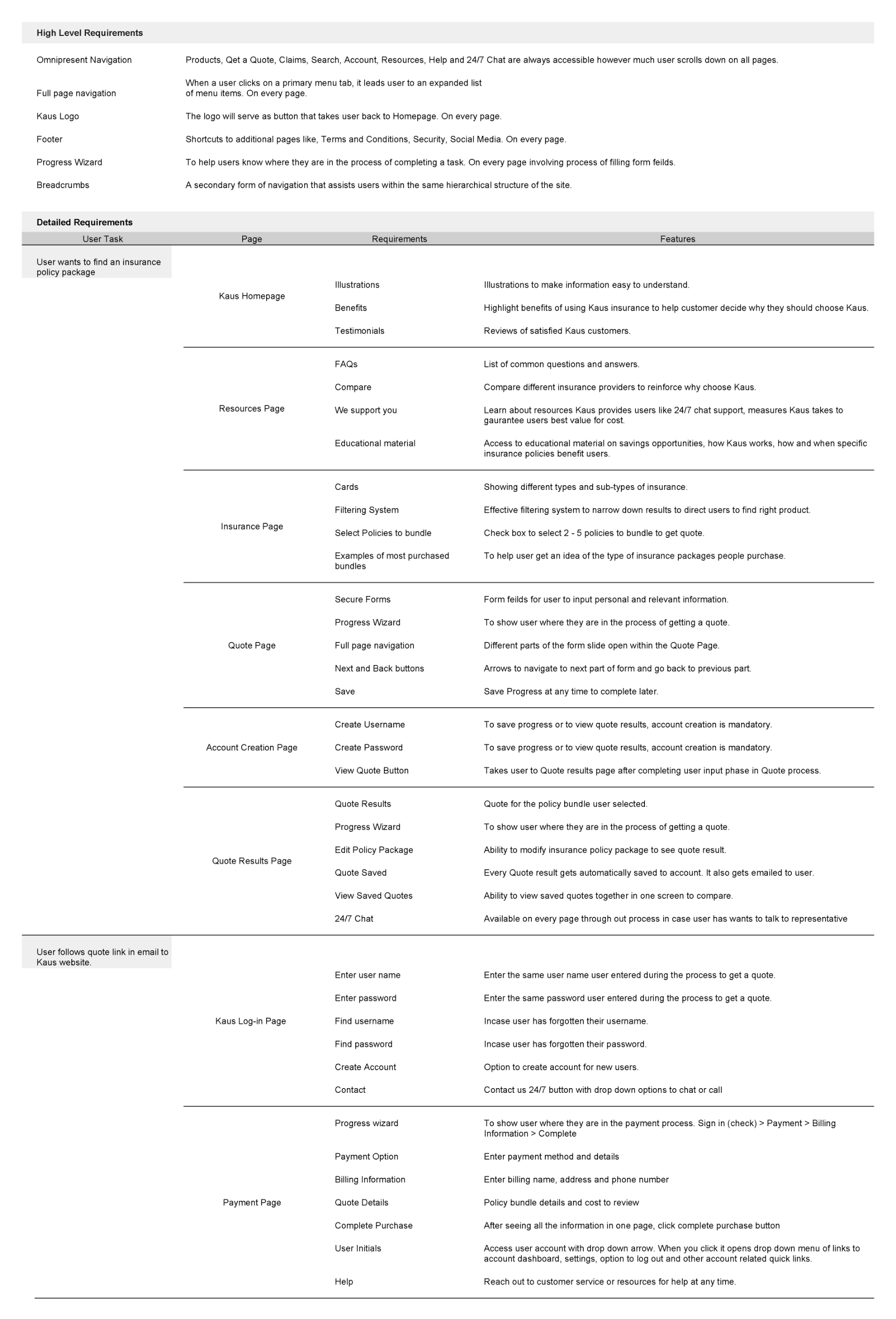 Focusing on the key the objective of the company to sell insurance policies I developed scenarios to simplify these processes on the website for the user.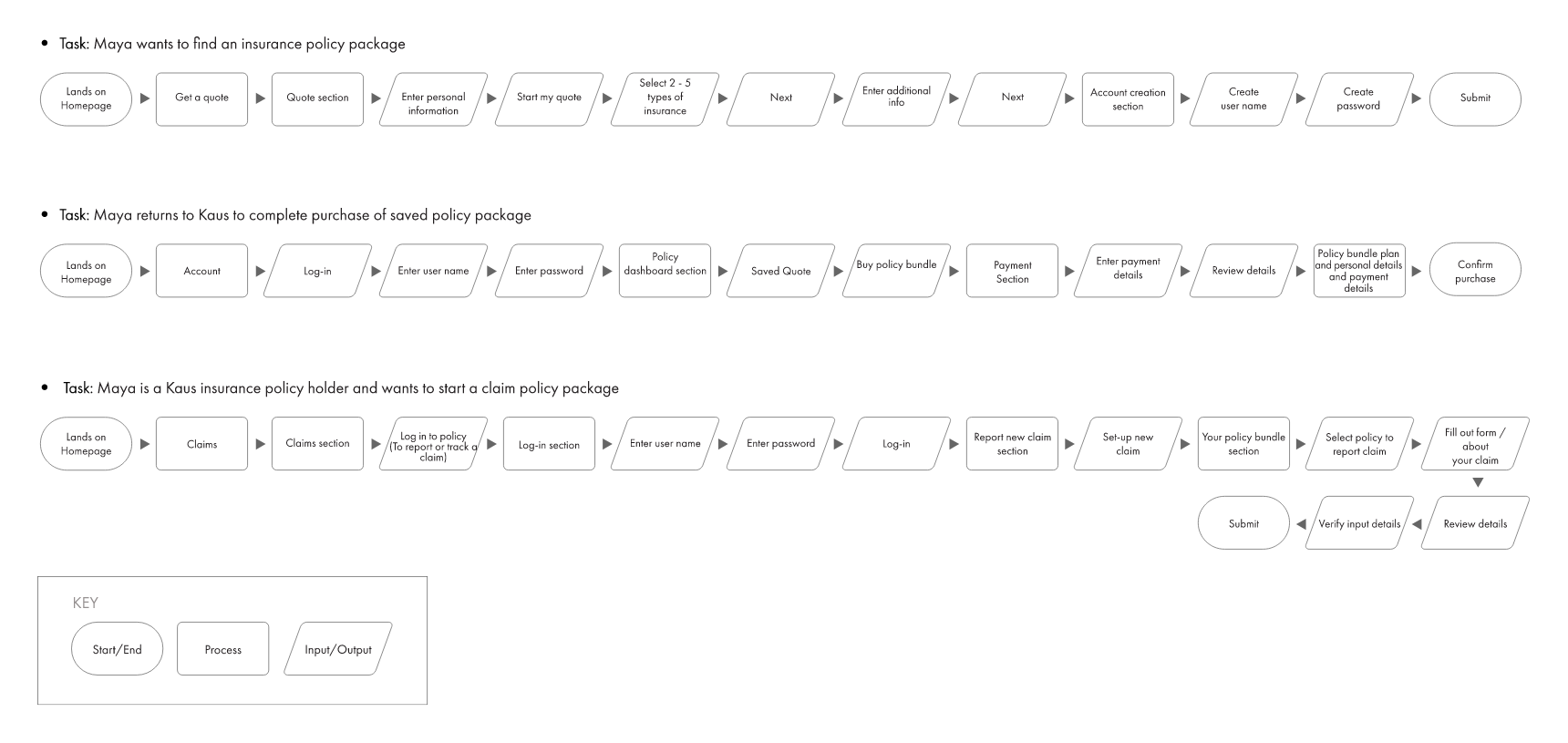 To fine tune the key processes on the website, I created a user flow taking into account the decisions the user will consider while navigating through the website.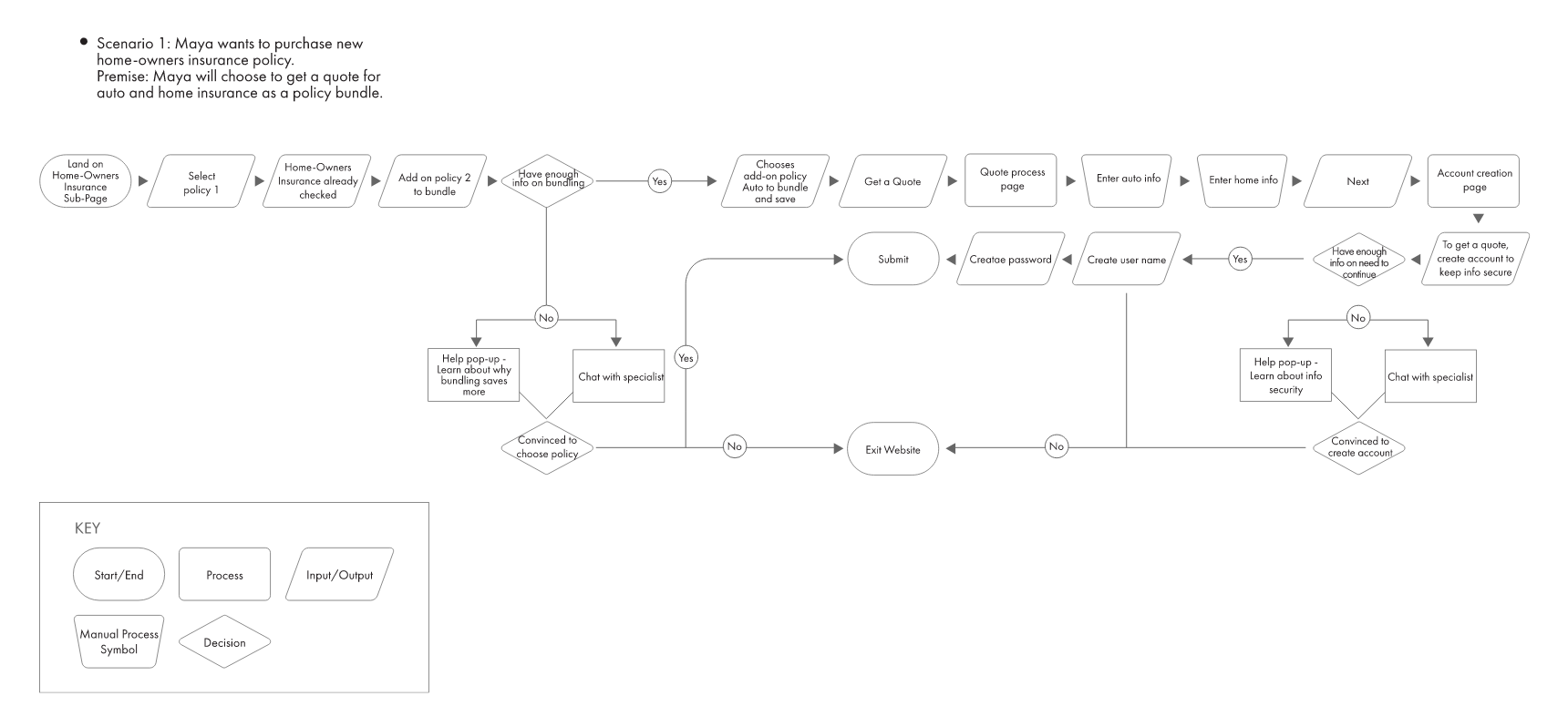 At this point, I had a pretty good understanding of the all the elements involved on the website, so I began laying them out visually.
Sketching as a first step to work out possible layouts always helps save time later on in the digital process.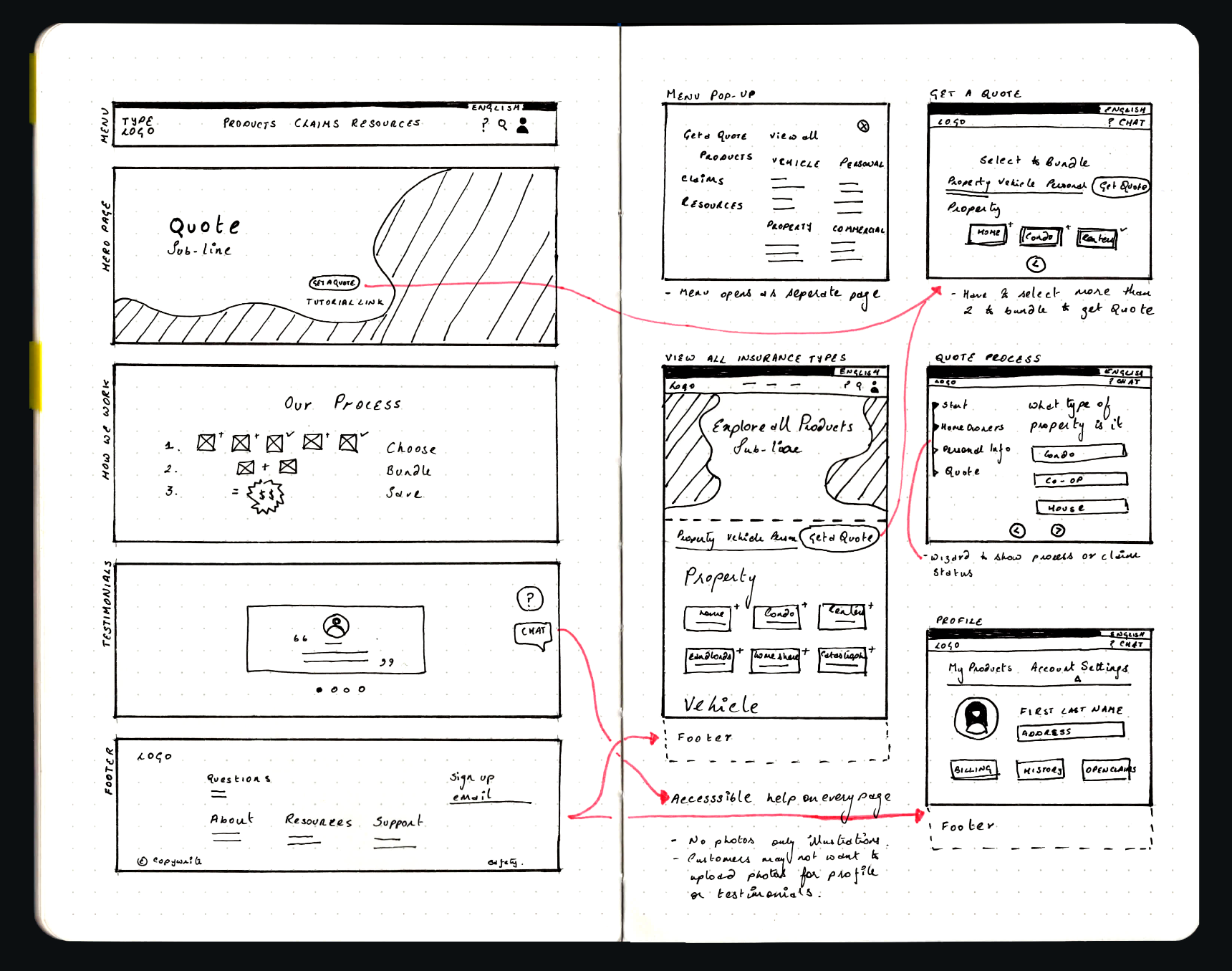 I then digitized the wireframes to serve as blueprint for the website interface.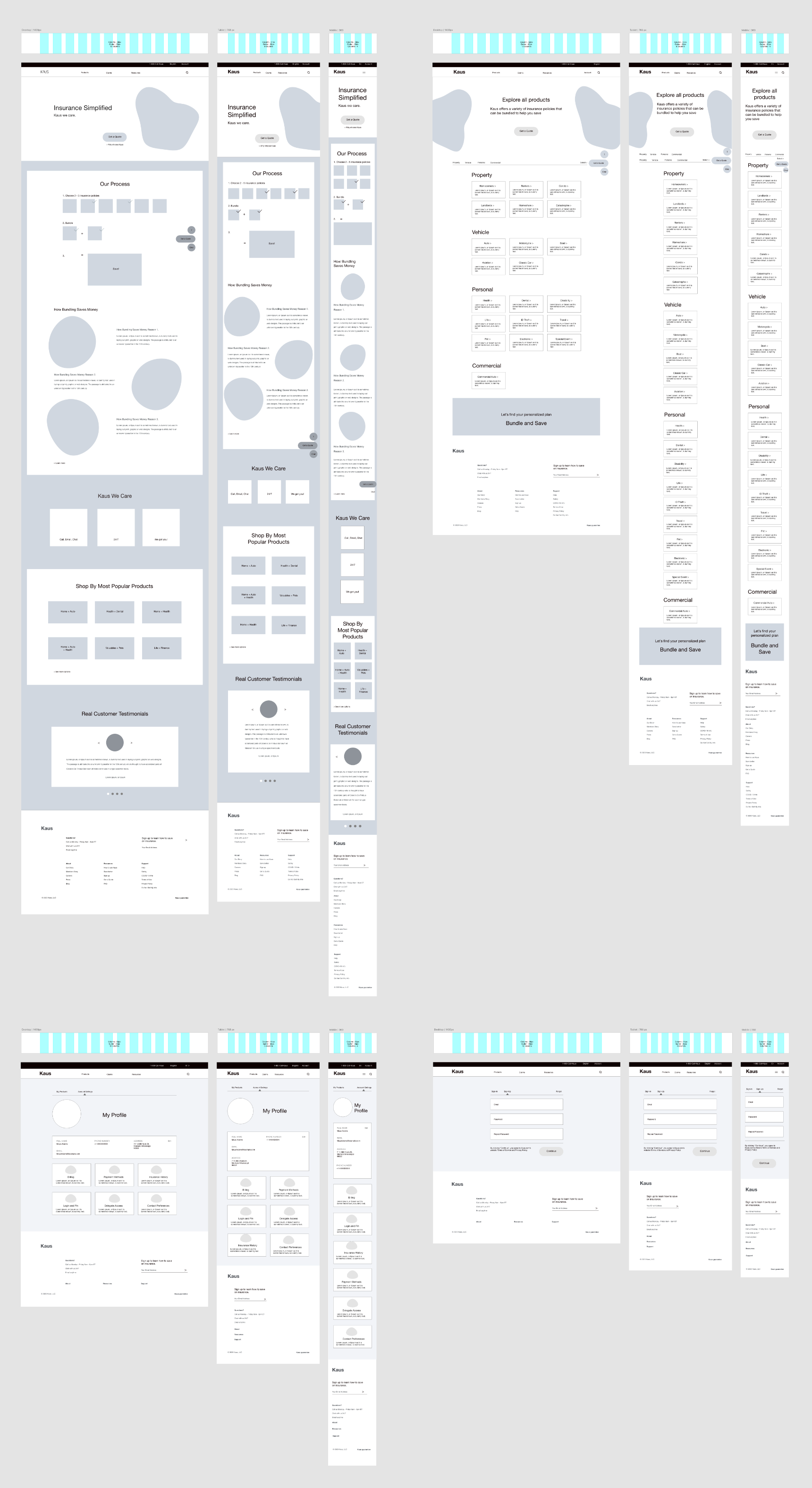 I had a lot of fun developing the look and feel of the website. Based on all the information I had, I went about creating custom icons and illustrations which are some of my favorite things to do in a design process. 
I began the branding process by first listing the brand attributes based on primary and secondary research. I grouped inspirational visual assets based on the key words we identified. I then sketched out various options for the logo.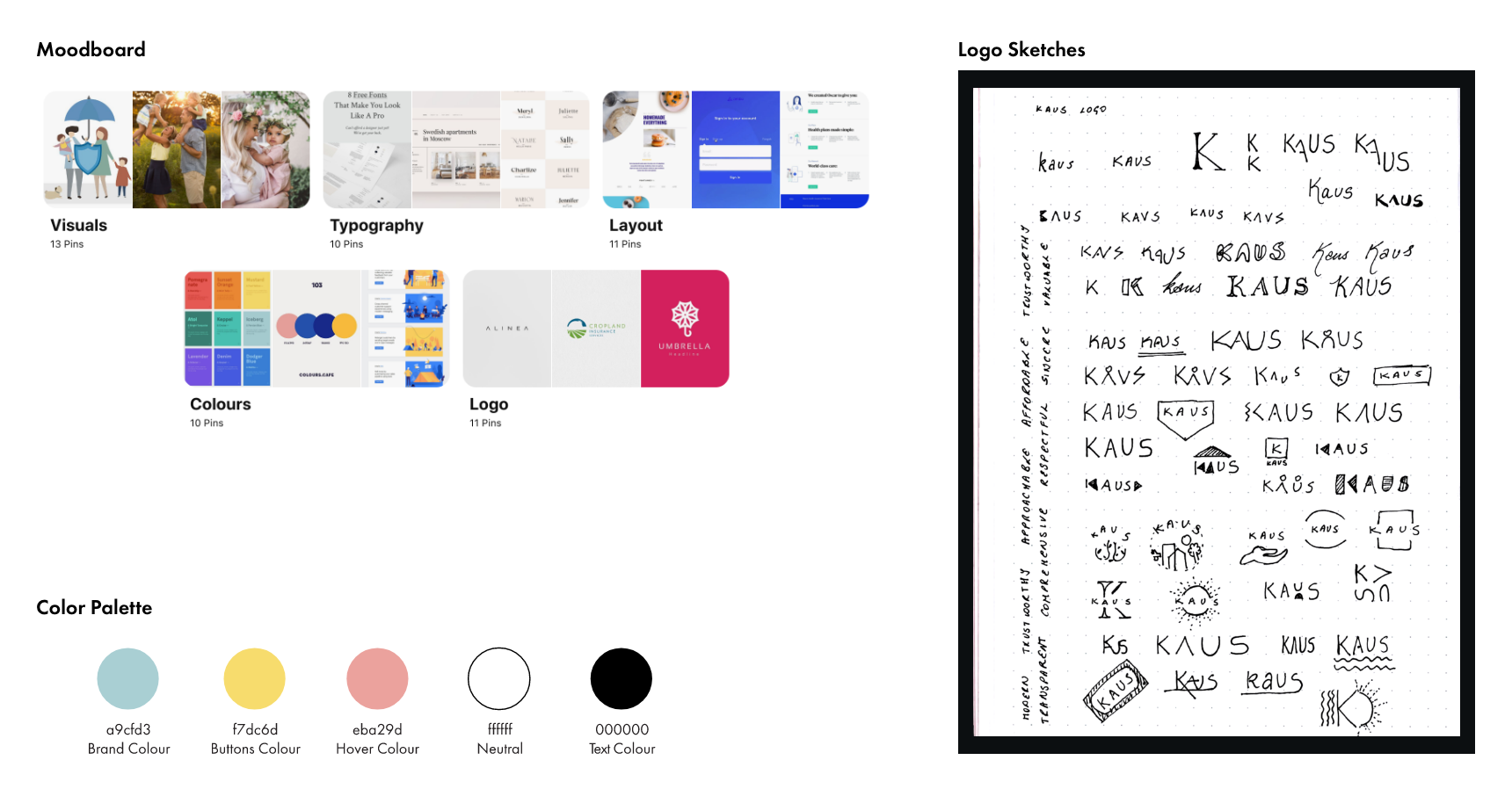 To begin developing the high fidelity version of the website, I created a visual brand guideline to be followed as a standard for the rest of the website development process. Custom icons and illustrations were created.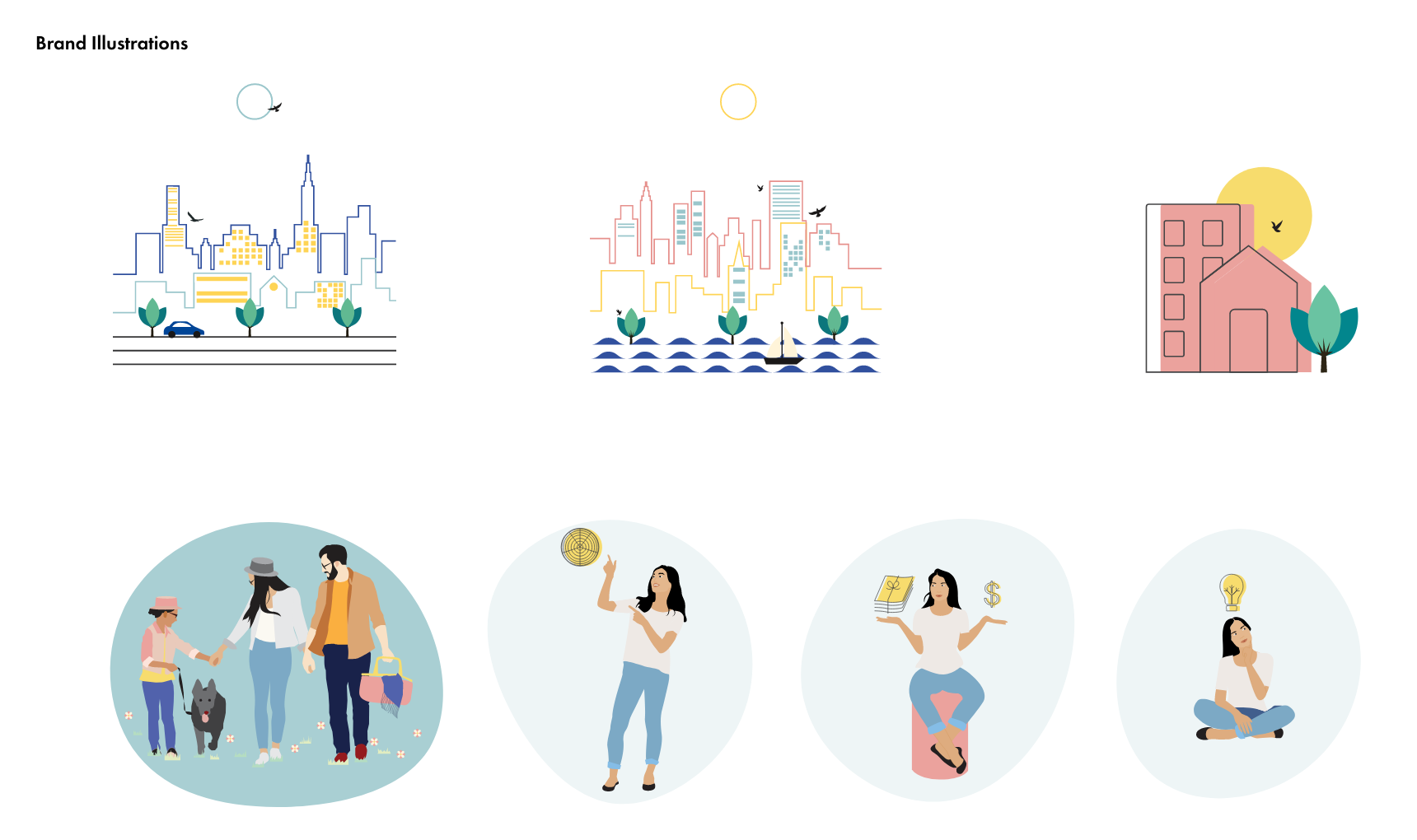 Once I had these foundational elements, I was able to developing the digital wireframes by adding the different UI elements to the mix.
Adding on to the style tile which includes logo, font and other visual elements, I created a UI Kit for the Kaus website to serve as a guide for how features will be represented on the website.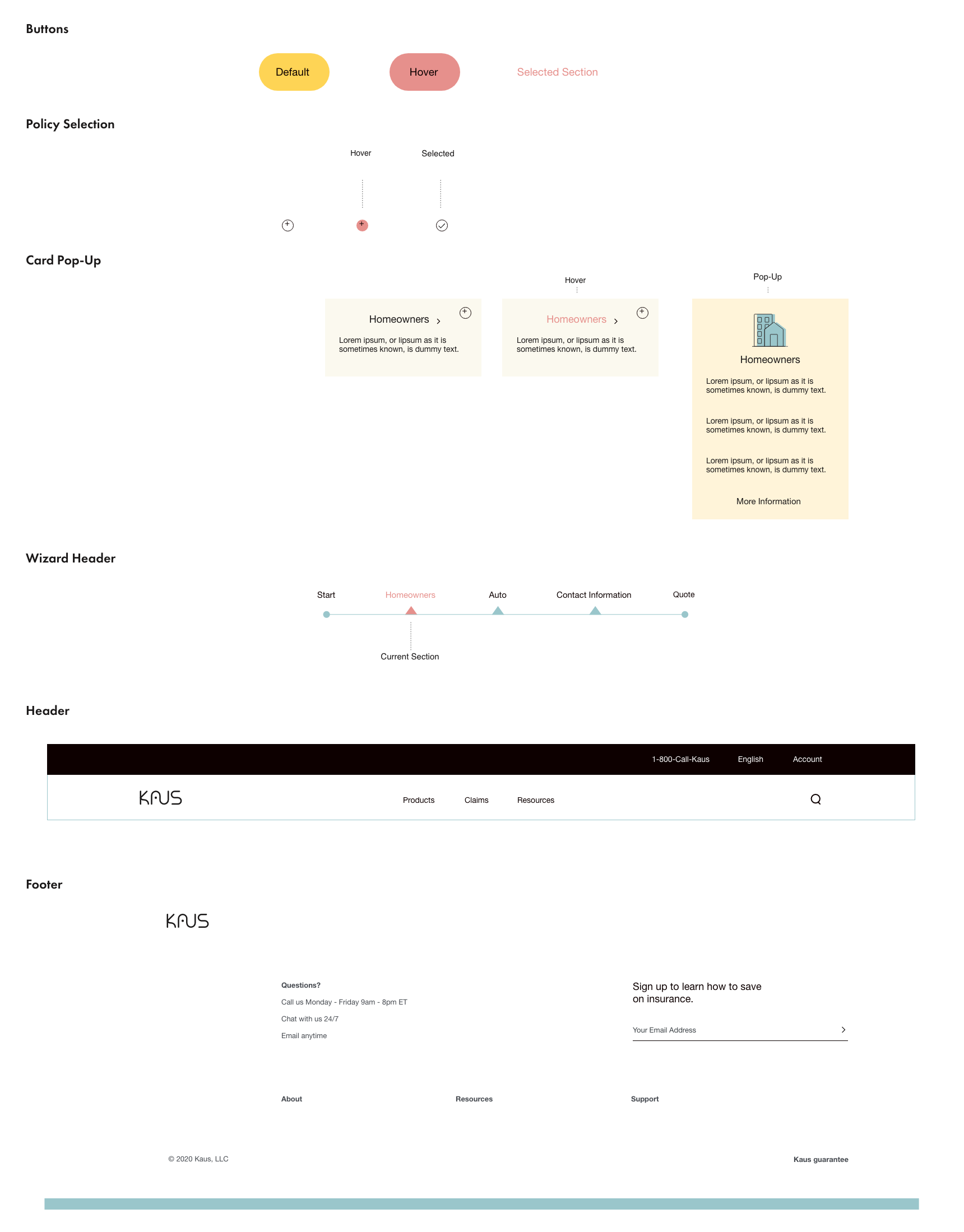 In the Testing phase, I began by first creating a limited viable prototype to test, developed a testing plan and then proceeded to test the prototype keeping in mind it was not fully functioning. Although this is the final phase in the design process, the results from this process will act as a guide to iterate on what the final prototype will look like. 
Process:
(i)
 Prototype
(ii)
Plan & Conduct Usability Test
(iiI)
Synthesize Usability Test Findings
(iv)
Apply Revisions
During the Prototype phase I built a scaled-down version of the website to test. Prototyping reduces the amount of UX friction, eliminates errors, and uncovers mistakes and false assumptions, all while saving time, money, and resources.

I designed high fidelity mockups of the homepage, products page, and user account dashboard page. I then created a prototype using Adobe XD to set-up a usability test.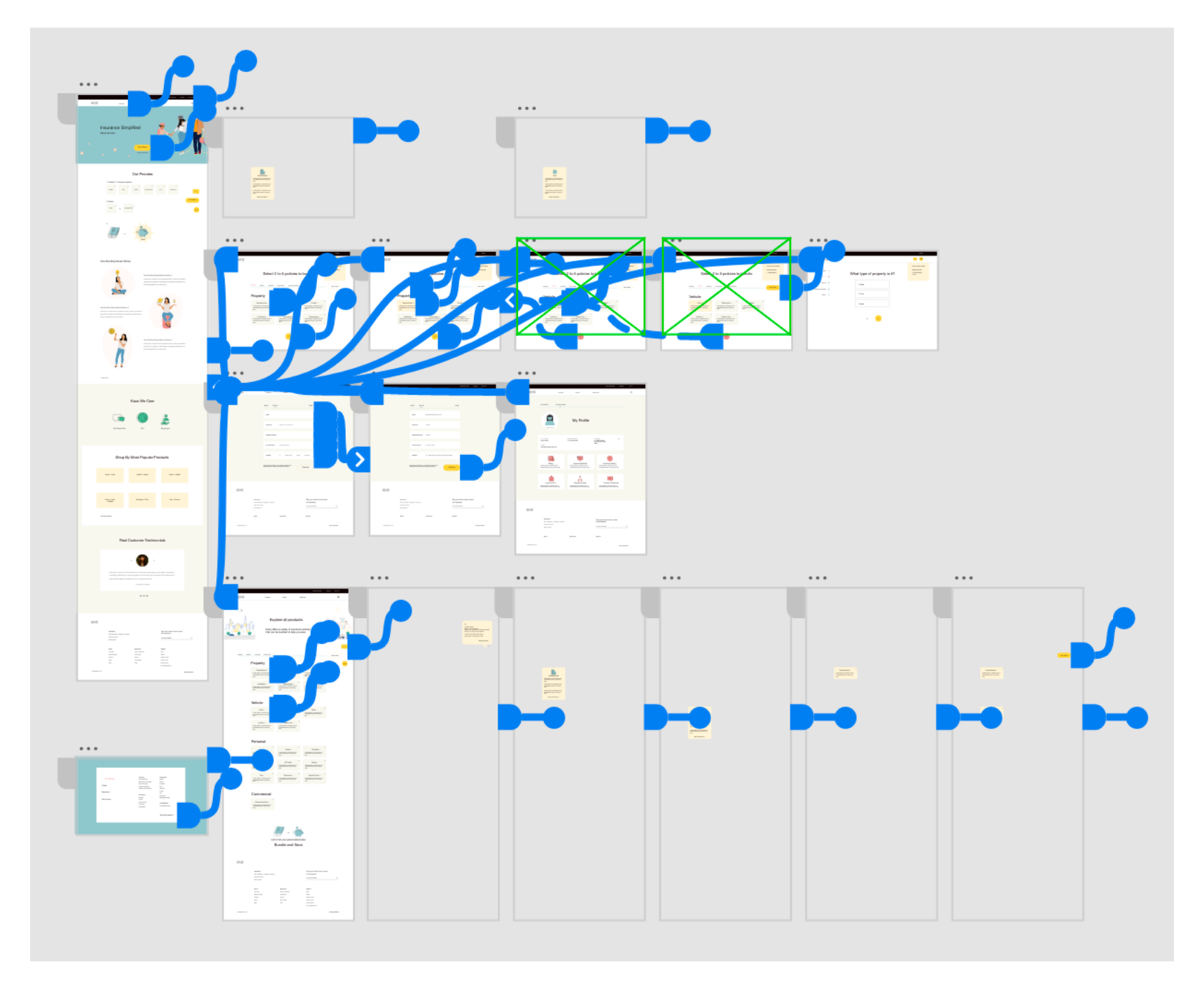 The testing plan outlined objectives, methodologies, participants recruitment plan and tasks to serve as a rubric during testing sessions.
Ensure efficient user experience
High-fidelity prototype of Kaus website
1: Learn more about Home owners insurance policy.
2: Create new participant account
3: Get a quote for Home and Auto policy bundle.
Moderated remote usability testing using the thinking aloud method via Zoom video call.

​​​​​​​
Conducting Usability Test
After conducting usability testing, I summarized the results of the testing and feedback.
2 Indian American, 2 Caucasian
Essential qualification: Has experience purchasing insurance
Recruited from network of friends and family

​​​​​​​
Common errors not counting errors that are due to the limited nature of the prototype.
100% completion rate for all 3 tasks
Synthesizing Test Findings
The usability test brought my attention to a few different ways to improve how effectively a user would be able to interact with the website.
I  organized user testing observations by theme categories, insights and developed recommendations ranked by priority based on budget and scope of project.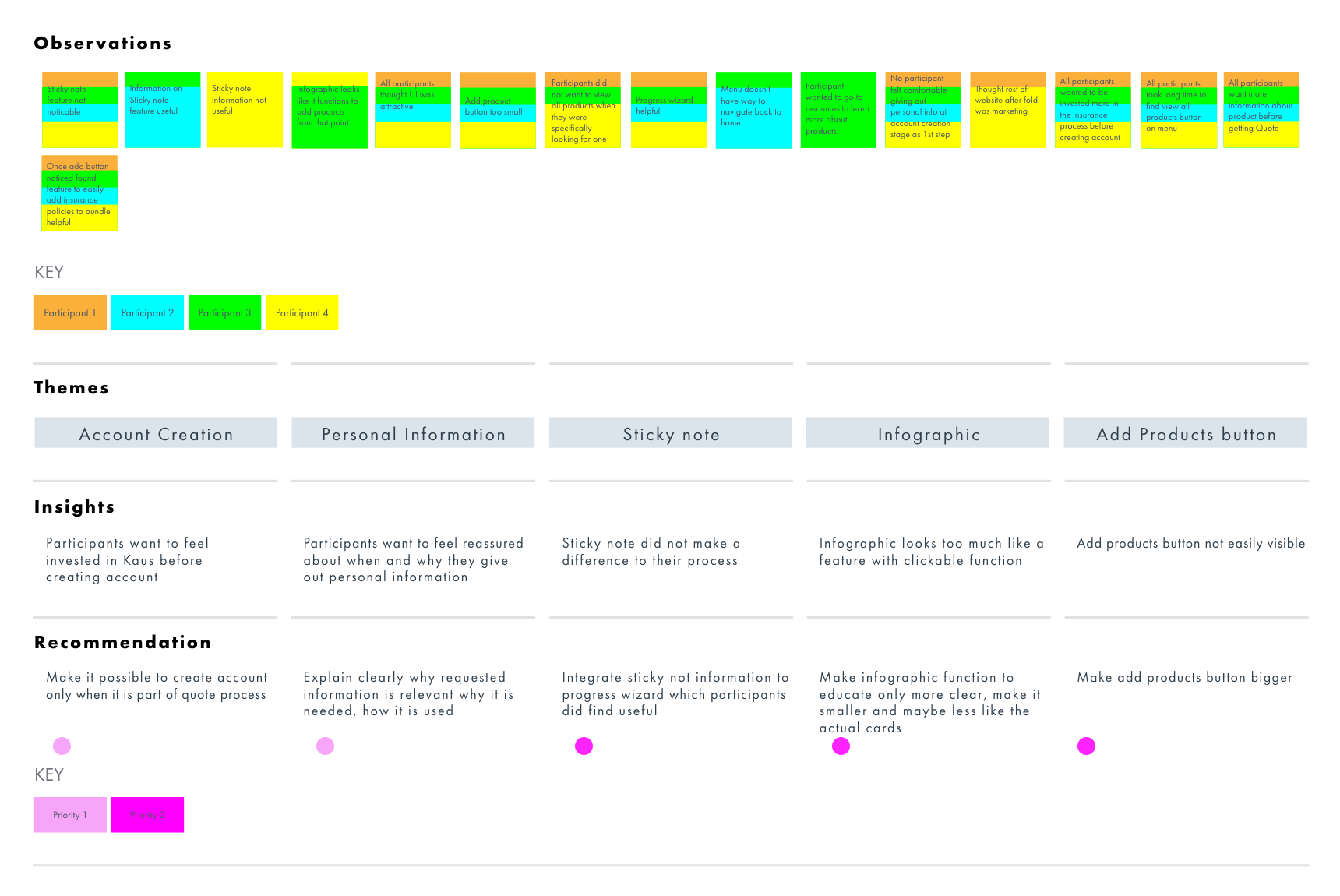 After applying the different revisions, I had a working prototype.
Based on valuable insights from testing and prioritizing recommendations, I revised the high-fidelity mockups and prototypes.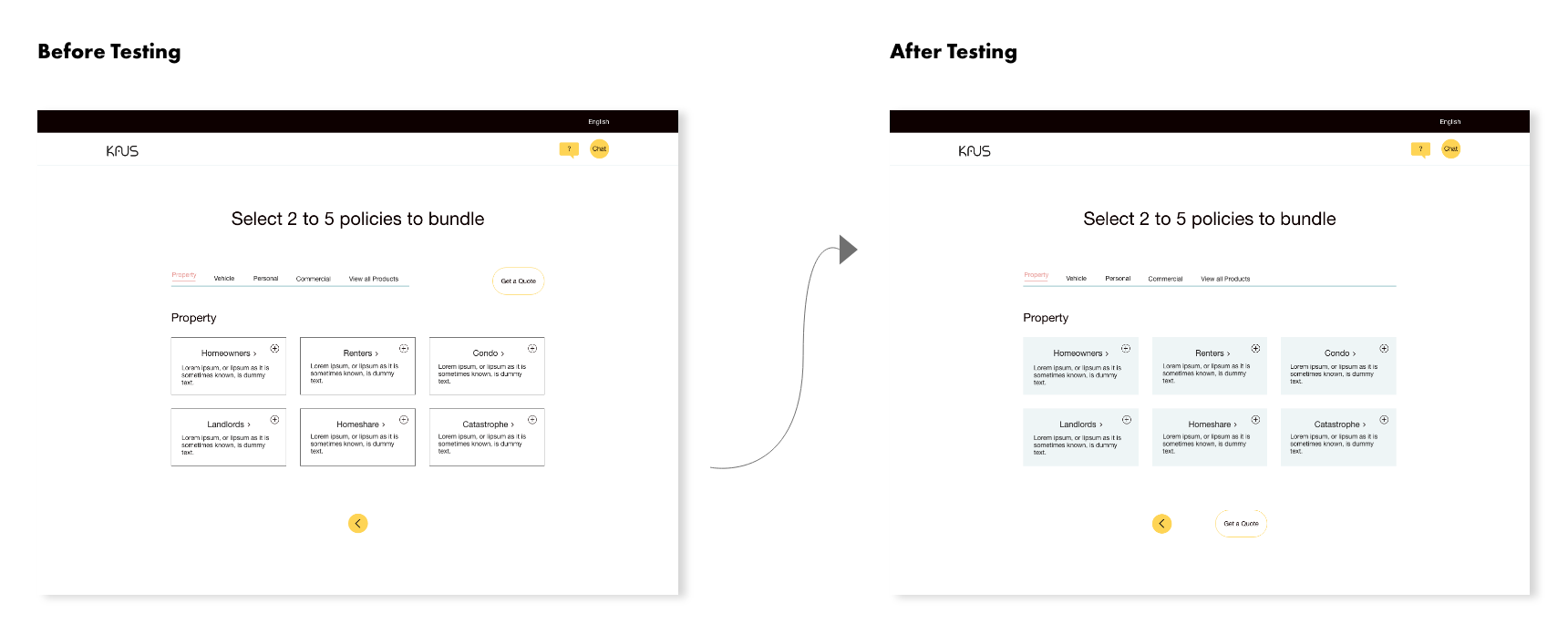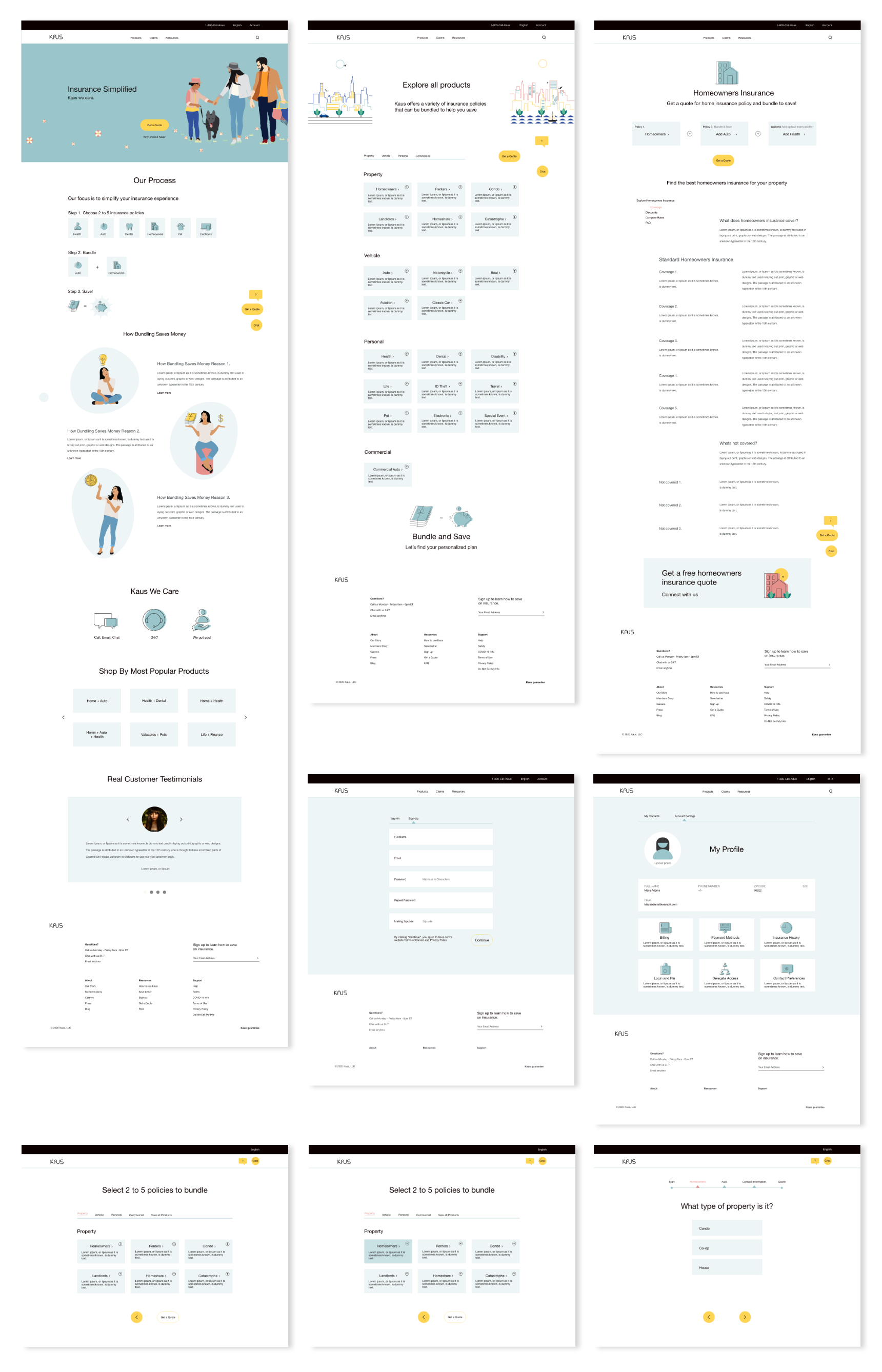 In creating branding and a responsive website design I learned the following:
1. Set clear and achievable research goals.
 It is important to clearly define achievable research goals so you know that you have met the requirements and avoid mission creep.
2. Feature creep.
 Participants from the interviews shared quite a few solutions they would like to see from their insurance carriers. It was challenging to decide on the most important features the website would require to support business and user goals.
3. Time management.
Certain phases of the project can take longer than others. There is a tendency to spend more time on the creative phase of the project. For example, it may be enjoyable to create illustrations and icons that can take up a lot of time. It is important to set and manage time goals efficiently and to determine what the minimum viable product or step is to proceed to the next phase of the project.